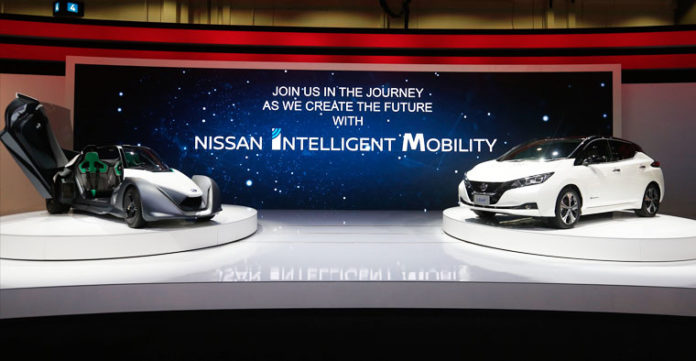 • Showcase of the new Nissan LEAF, world's best-selling electric vehicle
• Nissan's BladeGlider electric working prototype makes regional debut
• Launch of Nissan Midnight Maxima 2018 Edition
Nissan is showcasing exciting prototypes and production cars at this year's Dubai International Motor Show, giving customers a glimpse of its newest and future innovations. Nissan's stand highlights Nissan Intelligent Mobility, the company's approach to changing how cars are powered, driven and integrated into society. The next generation all-electric Nissan LEAF has been unveiled for the first time in the Middle East.
Kalyana Sivagnanam, President of Nissan Middle East and Regional Vice President Marketing and Sales for Africa, the Middle East and India, said: "The aim of Nissan Intelligent Mobility is to make driving safer, smarter and more enjoyable, as well as tackling some of the world's big challenges like climate change, traffic congestion and road fatalities. The Nissan LEAF is the icon of Nissan Intelligent Mobility combining electrification, advanced safety technologies and connectivity into one car that is simply amazing. We look forward to welcoming visitors to our exhibition, where they can get familiar with the products and prototypes that are shaping the industry.