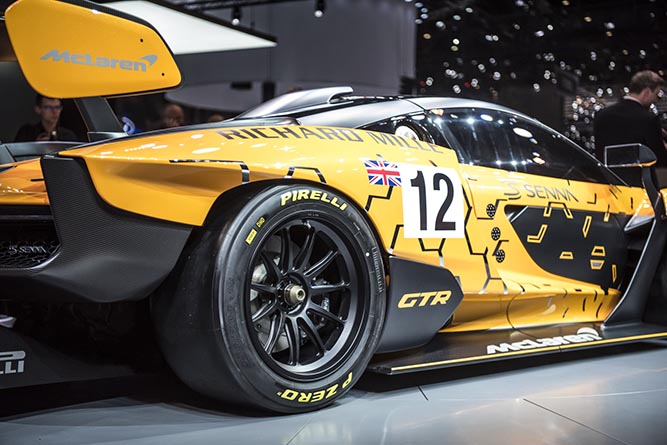 IN TOTAL, 60% OF THE SUPERCARS ON DISPLAY ARE ON PIRELLI P ZERO TYRES
Pirelli's perfect fit strategy has been confirmed once more as the favoured choice of the world's most prestigious car manufacturers, which require made-to-measure tyres specifically tailored to the technical demands of each individual car. The cars present at the 88th Geneva Motor Show underline this fact, with 60% of the prestige cars on display using Pirelli tyres: just as one out of every four premium segment cars is equipped by Pirelli as well.

That's no coincidence as Pirelli's homologations for different cars now exceed 2700. Pirelli is the leading supplier to marques such as Aston Martin, Bentley, Ferrari and Porsche, extending to a 100 per cent supply agreement with Maserati, Lamborghini, McLaren and Pagani; which all use Pirelli tyres distinguished by special markings and characteristics. When it comes to premium tyres, the privileged relationship with companies such as Alfa Romeo, Audi, BMW, Mercedes Jaguar and Land Rover is also evident.

THE PERFECT FIT STRATEGY: TAILOR-MADE BY PIRELLI. The design of prestige and premium cars requires an increasingly close collaboration between the vehicle manufacturer and the tyre maker, to highlight the performance and dynamic qualities of each car. Pirelli was ahead of this trend, becoming the preferred partner of the majority of car manufacturers in these specific sectors. Whether it's the P Zero, Scorpion, or Cinturato range, the importance of having tyres specifically marked for each manufacturer is well-established. Compared to the base tyres they are derived from, Pirelli's perfect fit tyres benefit from distinctive and specific design characteristics when it comes to tread pattern, compounds, and internal structure. Part of Pirelli's personalization strategy is also the Color Edition, in evidence on some of the most desirable cars at the show, or the new Cyber Car that makes its commercial debut in 2018.