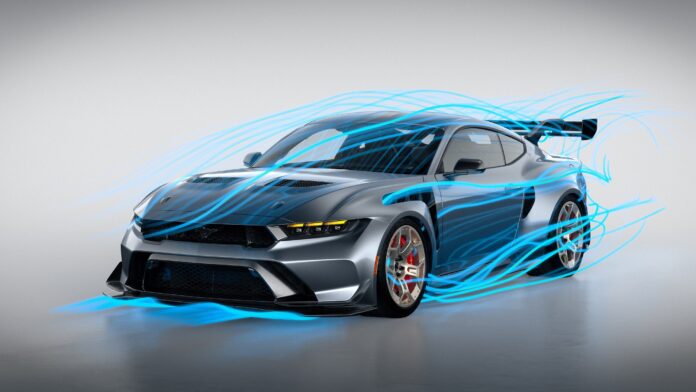 From its active aerodynamic shape changing rear wing to special flaps that open and close under its body, Ford Mustang® GTD's Drag Reduction System has the most advanced aerodynamic features of any Ford vehicle to hit the road or track.
Every inch of the height adjustable body of Mustang GTD, from the roof to floor, is designed to actively balance the tradeoffs between aerodynamics for speed and downforce for traction to take on the world's best supercars.
Powerful computer simulations led to new ways to manage airflow under unlimited driving conditions, including specially designed channels under the car to help direct turbulent air from the front tires away from the car.
When the first-ever Mustang GTD takes on the 73 curves of the Nürburgring, it will be targeting a sub-7-minute time thanks to active aerodynamic tech never before used on a street legal Ford car and illegal in GT3-class race cars.
The heart of Mustang GTD's aerodynamic performance is its Drag Reduction System, which uses a hydraulic system that can change the angle of the rear wing and activate flaps under the front of the car to find exactly the right balance between airflow for speed and downforce for grip, depending on performance conditions.
"Every surface, body opening and vent on and under Mustang GTD's body is functional," said Greg Goodall, Mustang GTD chief program engineer. "Some air is directed for cooling, other for aerodynamics and downforce. All of it to help GTD go faster or stick to the pavement no matter what the conditions are."